New place in town! 😀
Este micuț dar drăguț, are mireasma tare plăcută a cafelei și răcoarea unui delicios frappe.
Începând cu data de 6 iulie pe strada Bolyai nr. 1 The Elephant House așteaptă "dependenții" cafelei să îi treacă pragul și să se bucure de o matinală sau, de ce nu, de o târzie cafea.
Micul local are o capacitate de aproximativ 40 locuri, 9 mese și este compartimentat pe două nivele. Subsolul conține elemente decorative care ne fac trimitere către Africa, este un spațiu mai intim și mai răcoros, ideal pe timpul verii.
Încă de la intrare în local, mireasma cafelei proprii The Elephant House, te învăluie și te cheamă la a o servi. Meniul este afișat mereu, 12 feluri de cafea așteptându-și "pofticioșii". Paleta preparatelor pe bază de cafea este destul de cuprinzătoare aceasta fiind reprezentată de 32 sortimente aromate și proaspete.
Ceaiurile Julius Meinl, sunt la fel de aromate, gustoase și gata pentru a fi băute. A…și sunt 13 sortimente la număr 😀
Și pentru a face experiența cafelei și mai plăcută, oricare sortiment de cafea vine însoțit de un proaspăt croissant, produs Eldi, iar dacă preferați alt produs de patiserie puteți alege dintre brânzoaice, cornuri cu ciocolată, cornuri cu nucă sau mac. Yam , yam! 😀
În lista meniului se înscriu și specialitățile și anume limonada (ediția de vară este cea cu sirop de vișine – am încercat-o și vă spun că este potrivită zilelor de vară), ciocolata caldă albă sau neagră cu anumite arome – ca recomandare încercați-o pe cea Chilli și Mint 😉 – și, nu în ultimul rând, frappeul iar aici vă recomandăm Coconut Dream (este tare bun, fin, nu tare dulce, spumos, gustos, răcoritor…). Yaaamm… 😀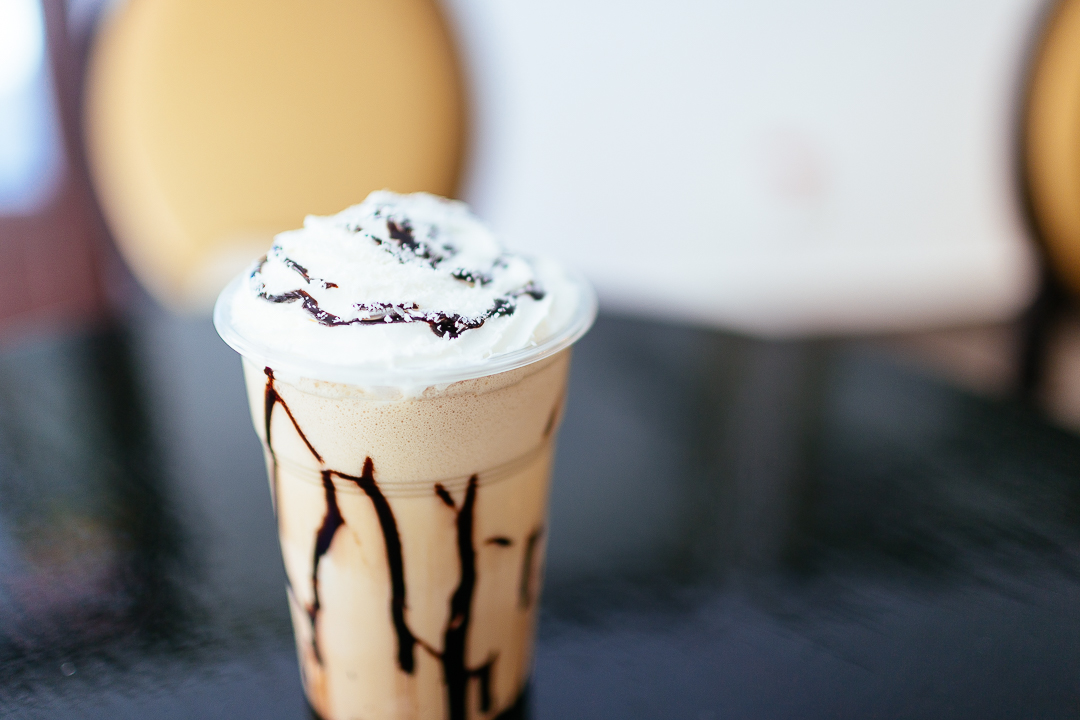 Toate băuturile pot fi luate "To Go" acesta fiind și conceptul localului.
Prețurile sunt accesibile oricărui buzunar, acestea fiind cuprinde între 5 lei – 12 lei pentru sortimentele pe bază de cafea, ceaiurile la 5 lei iar specialitățile între 5 lei – 13 lei.
The Elephant House pune mare accent pe întregul meniu, pe calitatea cafelei și pe consistența cremoasă a răcorosului frappe care, credeți-ne, chiar este cremos 😀
Așadar vă recomandăm să încercați preparatele The Elephant House, coffee and more vă așteaptă! 😉
Probabil cea mai bună cafea din oraș!
Încercați și spuneți dacă așa este 🙂
Enjoy!
Strada Bolyai Farcas nr.1, Tîrgu Mureș
0753 039 375
Luni-Vineri: 07:30–20:00
Sâmbătă: 08:30–18:00