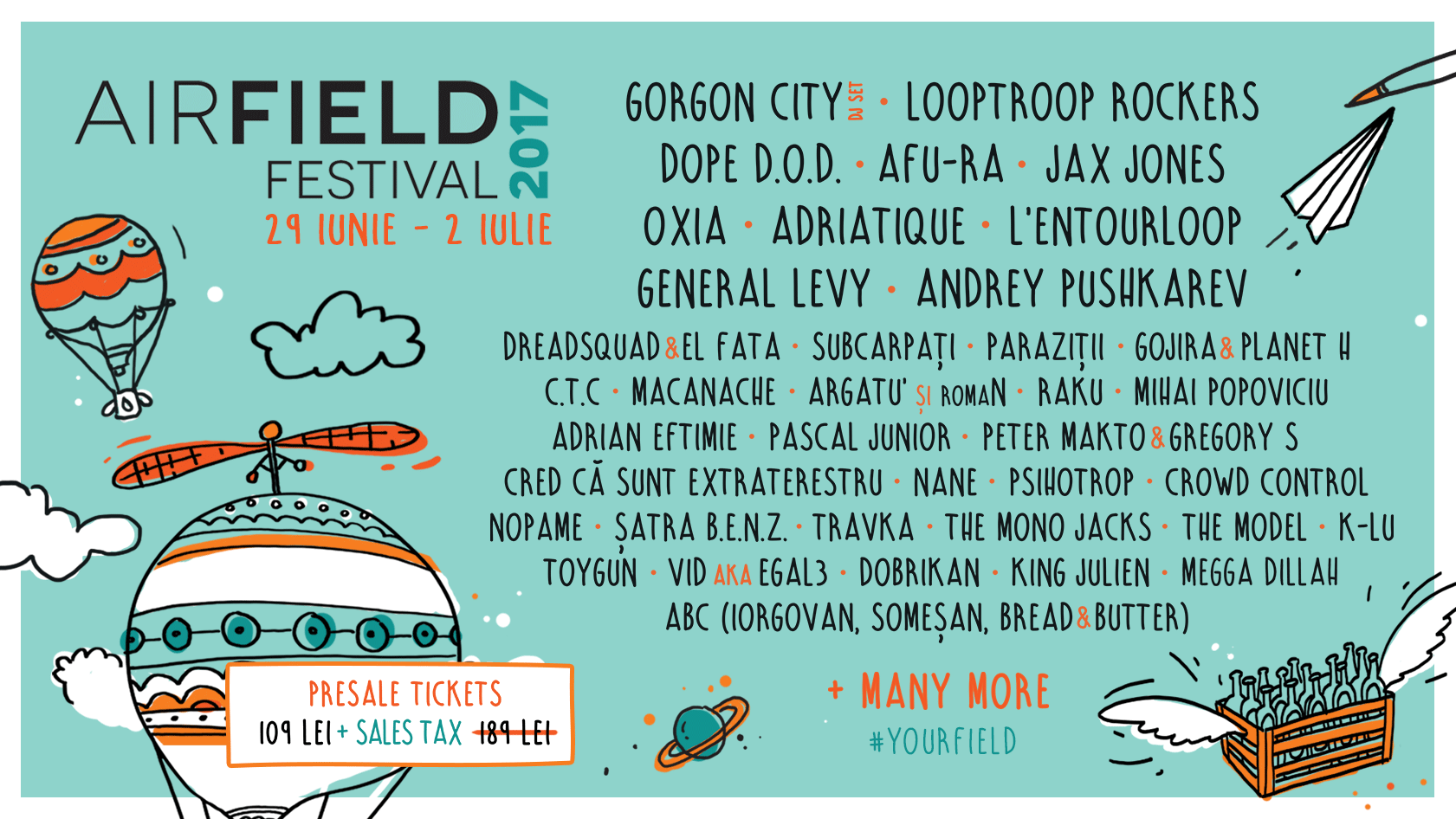 Airfield festival te invită la o nouă ediție
Festivalul cu iz de vacanță Airfield Festival care are loc de trei ani încoace pe Aerodromul Măgura din Cisnădie lângă Sibiu, ne bucură din nou cu prezența sa eclectică. Fiind singurul festival de muzică din România cu scenă hip-hop, nu dezminte ca de obicei și aduce și artiști din zona techno, indie, alternative și rock, iar ediția din acest an se va desfășura între 29 iunie și 2 iulie.
Airfield e un portal prin care intri într-o lume nouă, o lume a bucuriei, a râsetelor și a relaxării. Festivalul promovează o experiență complet-artistică, cu acturi live, instalații vizuale și workshopuri, pe lângă muzică.
Aerodromul găzduiește și o zonă de camping, o arie chill pentru relaxare, iar organizatorii au spus că au în plan foarte multe acțiuni environmental friendly.
Sunt confirmate nume foarte mișto
Pe cele 4 scene vor urca în total peste 100 de artiști români și internaționali. Gorgon City, Subcarpati, Gojira & Planet H, Cred  Ca sunt Extraterestru, Satra Benz, The Mono Jacks, Travka vor face aerodromul să sară în aer la Main Stage, iar Dope D.O.D.,  Paraziții, Raku și Macanache se ocupă de ritm și poezie la scena de Hip-Hop. La scena Techno s-au anunțat Adriatique, Andrey Pushkarev, Mihai Popoviciu, Peter Makto & Gregory S și The Model.
Grăbiți-vă, abonamentele au un super preț
Abonamentul pentru 4 zile are un preț pe care l-ai plăti în medie să vezi doar 2-3 dintre artiști separat, anume 79 de lei. Prețul pentru Early Birds mai e valabil până la 15 februarie, când vor fi lansate abonamentele Presale. Sunt puse în vanzare și pachete speciale Abonament Festival + Camping la 99 lei, însă acestea sunt în număr limitat și au mai rămas foarte puține. Le poți achiziționa de aici.
Îi poți urmari pe Facebook și Instagram, unde te țin la curent cu toate detaliile.