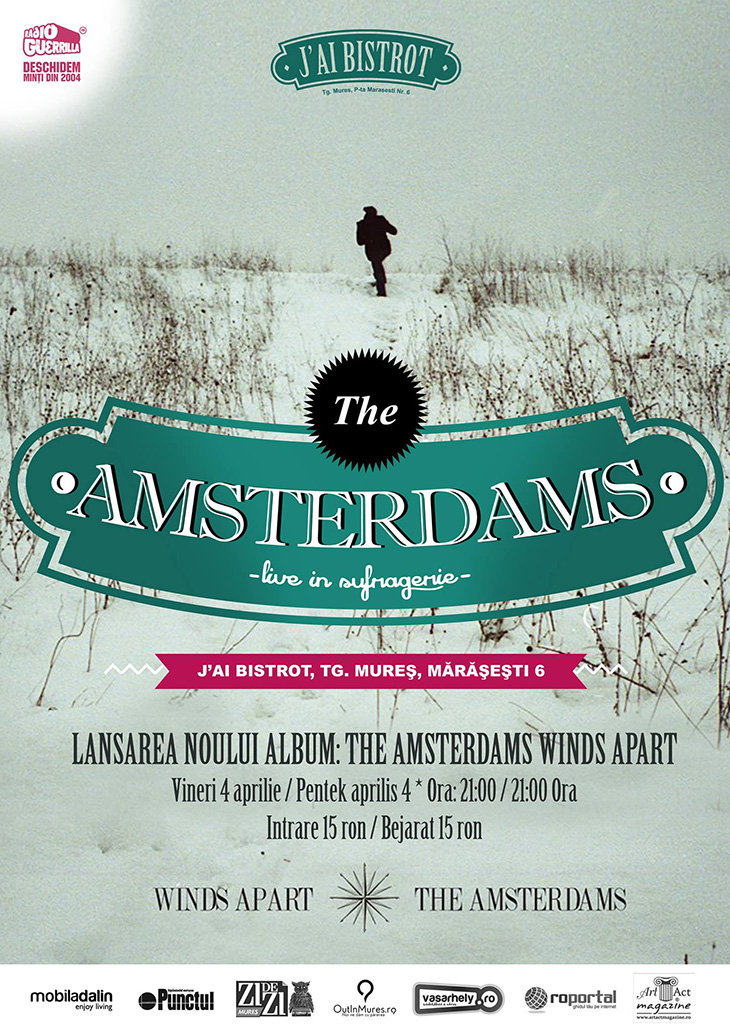 The Amsterdams – lansare de album în sufragerie
The Amsterdams revin in sufragerie, iar de data aceasta aduc și noutăți!
Noul album, "Winds Apart", primul acustic din cariera lor, va fi lansat vineri, 4 aprilie, de la orele 21.00 la J'ai Bistrot. Acesta cuprinde atât piese mai vechi cu înfățișare nouă, precum "Electromagnetica" sau "Adolessons", cât și piese noi-nouțe, toate în variantă acustică, pe care le veți putea asculta desigur și în concert.
Pentru cei care încă nu i-au ascultat, The Amsterdams este o trupa de post punk/indie/power pop din București, înființată în anul 2005. Componența actuală îi cuprinde pe Andrei Hațegan (voce, clape), Ovidiu Bejan (chitară, backing vocals), Augustin Nicolae (bass, backing vocals) și Andrei Ungureanu (chitară). Formația a concertat în țări precum Marea Britanie, Franța, Spania, Olanda, Italia, Ungaria și Cehia și a cântat în deschiderea concertelor unor trupe precum The Cranberries, Handsome Furs și Wolf Parade.
Prețul unui bilet este de 15 lei.