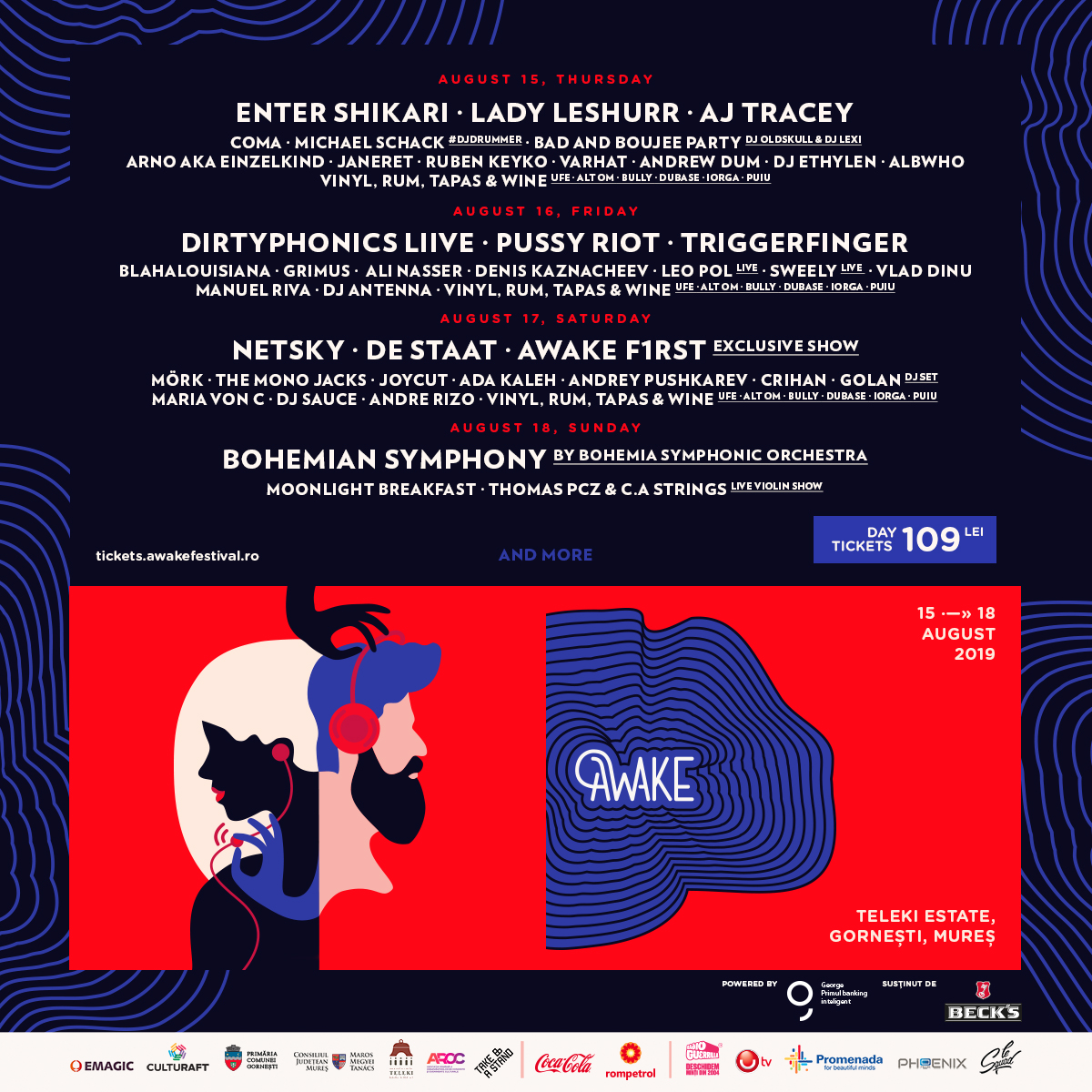 Programul #awake3 pe zile
Avem programul pe zile și pe lângă trupele anunțate, organizatorii au câteva surprize pentru aceia care vor călca pragul festivalului.
Sâmbăta și duminică vor avea loc 2 spectacole exclusive:
AWAKE F1rst, spectacolul exclusiv creat special pentru AWAKE, va urca sâmbătă pe Main Stage, alături de Netsky și De Staat. După ce anul trecut a fost VIȚA DE VIE – ÎN CORZI, în 2019 vă aducem AWAKE THE PRODIGY – TRIBUTE TO KEITH.
Duminică, 18 august, programul muzical al Festivalului se va încheia cu BOHEMIAN SYMPHONY by Bohemia Symphonic Orchestra.
Biletele de o zi, precum și suplimentul de camping sunt acum disponibile pe bilete.awakefestival.ro, iabilet.ro si eventim.ro,.
#StayAwake
Feed your mind la #Awake3
Scena Feed Your Mind vă așteaptă cu 4 zile de conținut cu speakeri locali și internaționali care vor aborda problemele actuale, dar într-un stil relaxat și cu multe surprize.
Pe lângă discursurile interactive și panourile inspiraționale, nu puteți pierde momentele speciale pe care le-am pregătit pentru dvs.
Momente speciale:
Open Mic Sessions – deveniți un vorbitor și exprimați- vă ideile pe scenă, la una din sesiunile tematice: "Idei antreprenoriale", "Fail Better" sau "Imaginați-vă Festivalul Viitorului". Înregistrările vor fi deschise la scena Feed Your Mind în timpul festivalului.
Cafea cu organizatorii – veți avea ocazia să întâlniți echipa de organizatori a festivalului AWAKE și să îi întrebați orice.
Coffee Workshop special – veți auzi totul despre aromele și gusturile cafelei, procesul de fabricare și cum să recunoașteți diferite tipuri de specialități de cafea.
Verificați evenimentul Feed Your Mind, pagina de Facebook și site-ul web pentru actualizări despre speakerii confirmați și programul complet al evenimentului.