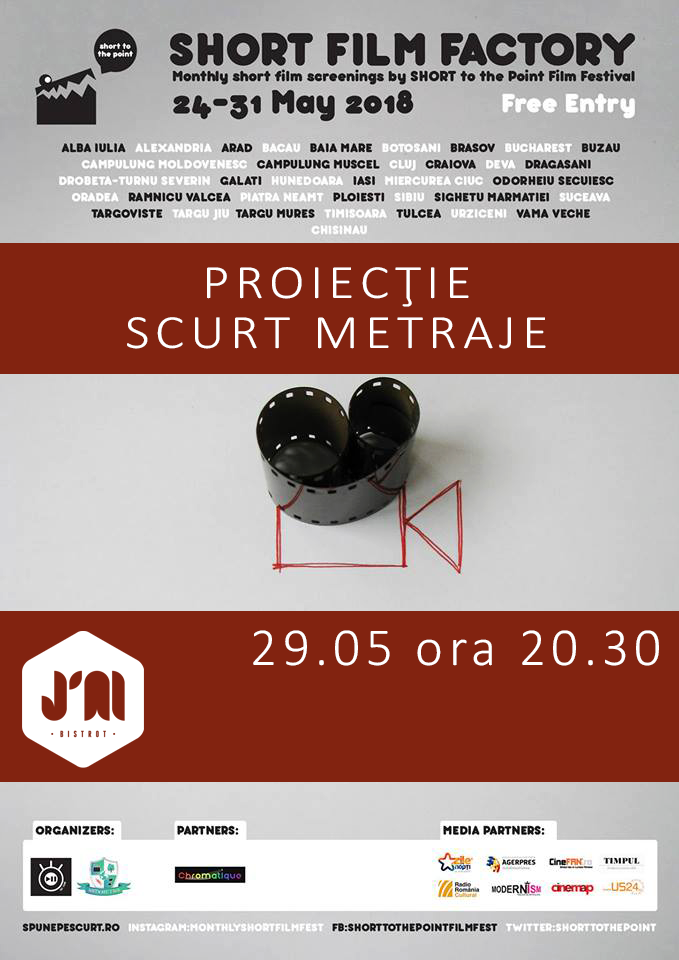 Proiecție de scurt metraje la J'ai Bistrot
În această seară J'ai Bistrot găzduiește o serie de scurt metraje în cadrul SHORT FILM FACTORY. 
Lansat în anul 2009 sub forma unei caravane cinematografice în 28 de orașe din România, STTP a devenit un
festival lunar la care se înscriu filme din toate colțurile lumii.
În cadrul evenimentului, 9 scurtmetraje premiate anterior în cadrul festivalului Short to the Point vor rula în 34 de spații alternative din tot atâtea orașe din țară si Moldova, în ultima săptămână a lunii mai. O selecție de 123 minute de film, povești
spectaculoase venite din toate colțurile lumii, care continuă o tradiție de peste 9 ani de proiecții speciale,
oferind publicului din România șansa unică de a urmări filme scurte multi-premiate, cu intrare liberă, în 34 de
orașe diferite.
Așa că azi 29 mai la ora 8, 30, la J'ai Bistrot vă așteaptă un program cel puțin interesant. Intrararea este gratuită. 
Vizionare plăcută!
Mai multe detalii aici.